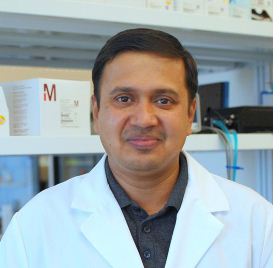 Prashant Kumar
University/Organization: University of Kansas
Country: United States
Biography
Dr. Prashant Kumar has his competencies in the field of process development and biophysical characterization of biomolecules. He holds degrees with distinction in Bachelor's in Biotechnology and Master's in Bioprocess Technology; and a Doctorate in Bioprocess Technology from Institute of Chemical Technology, India. He has been instrumental in successful development of various cost effective bioprocesses involving fermentation and downstream processing for production of therapeutic proteins, vaccines and antibiotics. This includes, experience of process scale up, process integration, design of experiments, validation, patenting and technology transfer to industry. As a postdoctoral researcher at The University of Kansas he has been working on development of recombinant multi-subunit vaccines for a diverse array of human bacterial pathogens. He is also involved in development of low cost attenuated viral vaccines and determining their effectiveness for improving human health.
He has been collaborating with various universities such as University of Missouri, Oklahoma State University, and commercial companies including CEVA and KanPro Research at USA for development of vaccines against common pathogens. His collaborations with Curtin University of Technology, Australia, University of Queensland, Australia, General Mills, USA, Abexome Biosciences, India ACPL, India have led path for process development/intensification and technology transfer of many bioprocessing projects to industry. He is member of several research societies including American Society of Microbiology, Collaborate2Cure, CHEMECA, Australian Grain Science Association, Indian Pharmaceutical Association. He acted as an organizing committee member for Great Plains Infectious Disease meeting, USA; Bioprocessing India and ICT-BioRad national workshop on chromatographic separation. He has several scientific papers and patents related to microbiology and bioprocessing to his credit and has delivered invited lectures, attended and presented in over 50 conferences.
¬
His research interests are Process development; Biophysical characterization; Microbiology; Therapeutic proteins; Vaccines; Antibiotics.